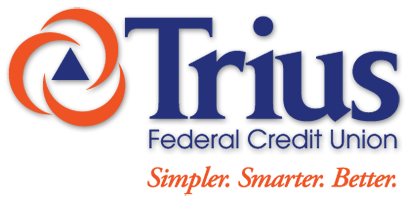 Our Name "Trius"
While abstract, Trius creates a sense of familiarity without being specific. The "Tri" prefix creates a sense of qualities and places joined. The "us" portion of the name also generates multiple connections, including country and each other.
Our Logo
At the center is a triangle with a long solid base, giving the sense of a strong foundation. This triangle is also a direct connection to the previous logo. This connection demonstrates our sense of tradition and the importance we place in our past. The three surrounding "swooshes" encompass the triangle giving the sense of motion while also a feeling of connection to the triangle. The swooshes represent the communities around us too. While in motion they move forward and yet stay connected to a strong financial institution prepared to serve the financial needs of the members.
Our Tagline
The tagline, "Simpler. Smarter. Better." further extends the use of the "three" in words associated with the credit union experience. It sets an expectation for the members and validates the decision to partner with Trius for all their banking needs.
Go to main navigation